Hello Readers,
My books have transported readers to many places: the slums of London, England; the Nazi death camps of Poland; wartime Vietnam; and aboard the orphan trains criss-crossing America. Two of my books are set during the Civil War, one taking readers to the caves and trenches of Vicksburg, Mississippi, and the other to Billy Cody's Bleeding Kansas.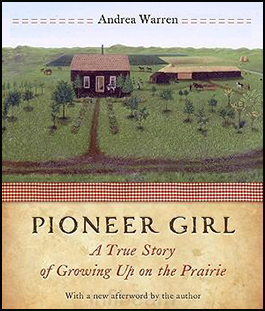 And one takes readers on a journey with Grace McCance and her family, homesteaders in central Nebraska. They lived in a sod house, dug a well by hand, endured drought, prairie fires, locusts, storms, blizzards, and serious illness—and still created a rich, vibrant life on the great open prairie.
When this book, Pioneer Girl: Growing Up on the Prairie, went out of print with its New York publisher, it found a happy second home at the University of Nebraska Press, coming out in a beautiful new edition in 2009. We expanded the subtitle to A True Story of Growing Up on the Prairie, and I added in sections about black homesteaders, women homesteaders, Native Americans, and the importance of quilts and quilting to homesteaders.
I was delighted this past year when the Nebraska Literary Heritage Association named Pioneer Girl as one of its 150 notable books to honor Nebraska's 150 years of statehood. It was one of the Association's short listed choices, and was selected as Cozad, Nebraska's "One Book, One Cozad."
A special pleasure for me was visiting Cozad and the neighboring communities of Lexington and Kearney to discuss the book at schools and libraries. I grew up several hours away in Newman Grove, Nebraska, and taught for a decade in Hastings, which is near Kearney, so this trip was a sort of homecoming.
I'm delighted at the continuing interest in a book that will turn 20 next year. Writing Pioneer Girl was a labor of love—my way of paying homage to all those hardy homesteaders who broke the tough native sod and established the farms that made the Cornhusker State the breadbasket of the world.