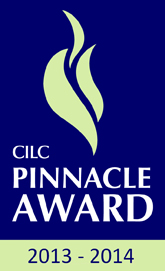 I love to visit schools, and I continue to keynote conferences and give programs, including in-service programs, for educational groups, libraries, and book clubs, all on site.
But mostly I now visit with students via Skype or by videoconference. For the latter, I connect through Field Trip Zoom, which is easy to use. My presentations typically last 45 minutes to an hour. I like to exchange information with the teacher ahead of time about how my visit fits into the students' study. Are they familiar with my books? Have they read one or more? Shall I talk about just one book, several or all of them? Shall we also discuss nonfiction research and writing techniques? I will customize my presentation the way a teacher wishes. Via the internet I have visited classrooms for students in third grade, all the way through college graduate programs. I also visit senior living centers, libraries, and all sorts of groups.
Videoconference visits can be booked directly with me, through CILC.org, or through Authors on Call, which is part of iNK THINK TANK. Unless we are using Skype, I incorporate a power point show in my presentation. My presentations helped Ink Think Tank win the prestigious CILC Pinnacle Award for the 2013-2014 academic year. (CILC stands for Center for Interactive Learning and Collaboration.)
Here is a sampling of my programs, all based on my books:
Charles Dickens: One of History's Greatest Writers and Reformers
Why and how Charles Dickens wrote "A Christmas Carol"
Digging Deeper: Research Techniques from a Nonfiction Writer
Hitler's War Against Children: How One Boy Survived the Death Camps
The Orphan Trains: Finding Families for Homeless Children
Vietnam War Orphan: One Boy's Journey to America
What Children Experienced in the Civil War: Three Young People at the Siege of Vicksburg
What Would You Have Done? Andrea Warren's Books about Brave Children
I am also available for collaborative projects with schools. As one example, I collaborated via videoconferencing with the 5th grade team of an elementary school in Queens, New York, on a two-week unit about the orphan trains.
I love to give seminars and workshops on writing, but to do them well I need several hours of presentation/writing/interaction time with participants. However, I have developed a presentation on writing creative nonfiction that is suitable for all grade levels and is very well received by students and their teachers.
> Please contact me to discuss presentations and fees.
---
In addition to speaking in children's lit classes at various colleges and universities, at book festivals, and in numerous school districts across the country, here is a small sampling of groups and organizations I've presented for:
United States Holocaust Memorial Museum
Politics & Prose Bookstore, Washington, DC
Harry S Truman Presidential Library
American Book Festival
Queens College School of Education, New York City
Ft. Worth Public Library Dickens Festival
Ohio State Literature Conference
New England Library Association
The Bhawanipur Education Society College, Kolkata, India
The Grange School for Boys with Emotional & Behavioral Disorders,
Rutland, England
(I had a videoconference with these students on my book Surviving Hitler. They then visited Nottingham's Holocaust Centre, to which the school donated 100 British pounds in my honor as a thank you for my work with the students.)
Dozens of IRA groups, teacher education workshops, libraries, college classes, and schools across Kansas, Missouri, Nebraska, Kentucky, Indiana, Texas, Ohio, Maryland, New York, Illinois, California, and Oregon.
Featured speaker, Educators Institute for Human Rights Conference, Kigali, Rwanda
Featured speaker, Holocaust Education Institute, University of Missouri, Columbia
I have been interviewed several times by National Public Radio and Kansas City Public Radio, featured on C-SPAN's "Booknotes," and on the programs "Writers on Writing," "Meet the Author," "Between the Lines," and others. I have been a visiting author at the Truman Presidential Library, the United States Holocaust Memorial Museum, and at dozens of schools, libraries, and universities. I have appeared on CBS This Morning, NBC, a long list of other television programs, and in interviews published in The Washington Post, The Horn Book, School Library Journal, the Kansas City Star, and others.