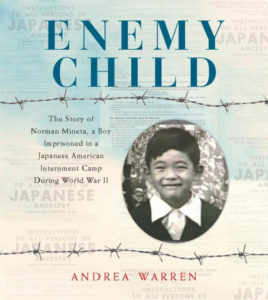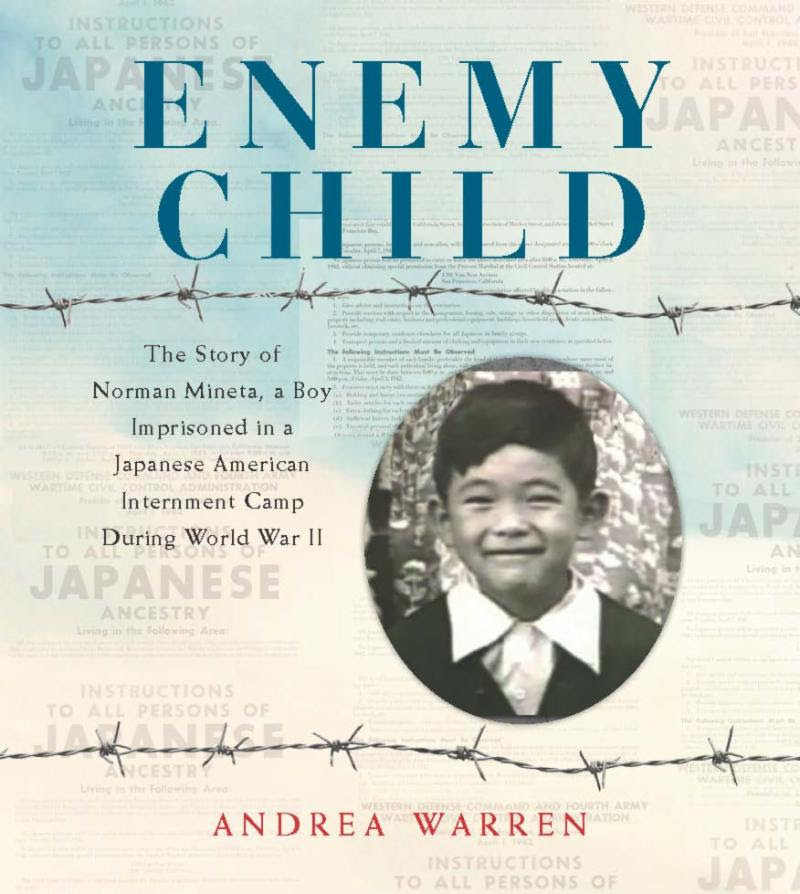 Readers, I am delighted with the response to  my new book, Enemy Child: The Story of Norman Mineta, a Boy Imprisoned in a Japanese American Internment Camp During World War II, published by Holiday House.
Since its debut, I've introduced it to readers at several special events, including the Festival of Books in Tucson, Arizona, at the Plaza Library in Kansas City, and in Norman Mineta's hometown of San Jose, California, in an event sponsored by the great Hicklebee Children's Bookstore. In late summer I met up with Norm at the Heart Mountain Pilgrimage on the site of the former internment camp near Cody, Wyoming. Several generations of Japanese Americans come together each summer to study and contemplate what happened in that place and to honor those who were imprisoned there. I participated in panel discussions and met many outstanding people who are working to insure that the history of Japanese American internment is never forgotten.
In November I was honored to present the Eskin Memorial Lecture at the Library of Congress. This was held in the historic Thomas Jefferson Auditorium of the LOC and in the audience were several hundred middle and high school students from the Washington, DC, area, along with other guests. Norman Mineta was there and he and I then participated in a Q&A session with Washington Post columnist Monica Hesse. Later that day, we took part in another Q&A session and also signed many copies of "Enemy Child" for audience members. This event was hosted by the Smithsonian at the National Museum of American History—one of my favorite museums in the world. 
Both the Library of Congress and the Smithsonian are institutions dedicated to preserving the history of Japanese American internment. I take very seriously my role in helping as well.
In my book I tell the dramatic story of how Norm, then ten years old, was sent with his family  to Heart Mountain War Relocation Center in Wyoming, where they lived in one room in a tar paper-covered barracks, without running water or privacy. They endured extreme weather conditions, dust storms, and poor food. Worst of all, they were prisoners behind barbed wire.
Norm never forgot this experience. He later entered politics and served ten terms in Congress and was appointed to two presidential cabinets. Among his many achievements was helping to get legislation passed requiring the government to formally apologize to the Japanese American community for one of this country's most egregious civil rights violations.
Enemy Child has a hundred photos, maps, and illustrations to help tell Norm's story and that of all Japanese Americans. When you step into Norm's shoes and take this journey with him, I hope you will learn what it is like to have your own government declare you an enemy, take away your rights, force you from your home, and imprison you—an experience far too many people in countries around the world are enduring at this very moment.
RECOGNITION:
Winner: The American Society of Journalists & Authors 2020 Book Award for Children's Nonfiction
Winner: The Society of Midland Authors 2020 Children's Reading Roundtable Nonfiction Award 
Winner: Bank Street College Flora Stieglitz Straus Award for Best Nonfiction Book for 2019
School Library Journal Best Book 2019
Honoree: The California Reading Association Eureka! Gold Award
NCIBA Golden Poppy Book Award 2019, Long List 
Starred reviews in The Horn Book and in the School Library Journal  
Nominee: 2021 Grand Canyon Reader Award 
★★★ A Junior Library Guild Selection ★★★
FROM THE REVIEWERS: 
★ An inspiring story of character and endurance despite hardships. Important, well-told, and an excellent choice for social studies classes, literature circles, and libraries. Extensive back matter enriches understanding of this historical narrative. —School Library Journal, starred review
★ With so many individual stories, only one absolute emerges from this historical period: a large segment of our population, whether U.S. citizens for first-generation Japanese people deprived of citizenship, were denied their constitutional and civil rights. Warren leaves much to ponder about our nation's past and present, about 'this beautiful tapestry that is America.' —The Horn Book, starred review
With great sensitivity, Warren traces the experiences of former congressman Norman Mineta, whose family was forcibly relocated in 1942 during the WWII-era internment of Japanese-Americans. Interweaving historical background, various accounts, and Mineta's first-person recollections, Warren skillfully illuminates what it felt like to be targeted and imprisoned. There are still too few books for youth about U.S. Japanese-American internment, and this affecting volume offers an essential view.     —Publishers Weekly
Warren's biography adroitly covers Mineta's subsequent education and distinguished career. Extremely well researched and boasting Mineta's cooperation, the book is generously illustrated with period black-and-white  photos. It's a fascinating record of an eventful and significant life.  —Booklist
Warren bases her narrative on interviews, as well as other primary and secondary resources, and although readers who have read other work on the internments camps will find much that is familiar, the Mineta family story offers particulars that do not emerge with such clarity in other accounts.—Bulletin of the Center for Children's Books
Warren is brilliant in interweaving history with its impact on one boy. Enemy Child  is an initiation into a dark period of American History.  As a book for young adults, Warren assumes little or no prior knowledge of these events from the reader.  Thus, as the story of Norman Mineta unfolds, so does its historical background.  It is a powerful, poignant page-turning narrative of an American boy who was treated as a prisoner and reviled as an enemy because of his ancestry.  But it is also a story of patriotism, honor, dignity and resilience from a family of immigrants who never, for one second, was disloyal to our country. VickiCobbsBlog.com 
Hopeful, yet also a reminder that policies our government develops to "protect us" can also be shameful and grossly unfair. An important book and a great read, from a masterful historical storyteller.  —Amazon Review by Pat McNees, author and journalist
Absolutely one of the most important stories for all Americans to know. A truly special book.  —Steve Sheinkin, author of Bomb.
Articles and Interviews with Andrea Warren on the publication of "Enemy Child":
Publishers Weekly link: 
https://www.publishersweekly.com/pw/by-topic/childrens/childrens-book-news/article/79580-the-enemy-child-who-became-a-leader-a-u-s-congressman-s-story-of-incarceration.html
The Shawnee Mission Post link:
Prairie Village resident Andrea Warren's new book tackles experience of boy in Japanese-American internment camp
Join Cyrus Webb on Conversations Live to hear a short interview with Andrea Warren discussing "EnemyChild":
http://www.blogtalkradio.com/conversationslive/2019/05/02/author-andrea-warren-talks-normanmineta-and-enemychild-on-conversationslive#.XMubN0wwGbY.email
Interview with Sandra Bornstein: https://sandrabornstein.com/q-a-with-andrea-warren/
Book review by Sandra Bornstein: https://sandrabornstein.com/enemy-child-a-must-read-story-for-middle-school-readers/